Making Spirits Bright – Sign-Ups and Selection

Knights of Columbus Hall

Nov 30, 2022
11:30 AM – 1:00 PM

Club General Meeting

Knights of Columbus Hall

Nov 30, 2022 12:00 PM

Blood Drive – Last of 2022

Knights of Columbus Hall

Dec 06, 2022

Fireside Chat

Knights of Columbus Hall

Dec 07, 2022
12:15 PM – 1:00 PM

Club General Meeting

Knights of Columbus Hall

Dec 07, 2022 12:00 PM

Piedras Negras Wellness and Christmas Gifts Trip

Piedras Negras, Mexico

Dec 08, 2022
7:00 AM – 7:00 PM

Charitable Contributions Committee Meeting

New Braunfels Public Library

Dec 08, 2022
11:30 AM - 1:00 PM

Making Spirits Bright – Ugly Sweater Rappin' Party

Knights of Columbus Hall

Dec 14, 2022
11:30 AM – 1:00 PM

Club General Meeting

Knights of Columbus Hall

Dec 14, 2022 12:00 PM

December Food Distribution

Tree of Life

Dec 15, 2022
8:00 AM – 11:30 AM
2022-2023 Officers and Directors
Birthdays & Anniversaries
Sharon Staats

November 1

Chaz Gallagher

November 3

Huntor Borland

November 3

Lilia Marek

November 3

Chris Sitton

November 11

Nate Raschke

November 13

Bruce Howard

November 17

John Bedgood

November 17

John Manthey

November 20

Joyce Yannuzzi

November 23
Arlon Hermes

November 1, 1986

36 years

Carter Casteel

November 1, 1989

33 years

Jim Poage

November 1, 2004

18 years

William/Bill Lee

November 1, 1969

53 years

Frank Pereira

November 2, 2016

6 years

D. Lee Edwards

November 5, 1997

25 years

Haley Furlough

November 10, 2021

1 year

Stewart Clark

November 11, 2015

7 years

Kevin Johnson

November 17, 2021

1 year

Don Miller

November 19, 2003

19 years

Joyce Yannuzzi

November 19, 2014

8 years

Robert Belsjoe

November 19, 2014

8 years
Spark Plug newsletters are saved as Adobe™ .PDF documents. Adobe™ Acrobat Reader DC must be installed on your computer to download and view these files.
Download
.
The Rotary Club of New Braunfels is a group of professional men and women who are dedicated to "Service Above Self". This talented group of people work hard to give back to their community, through community service projects, charitable contributions, scholarships, Rotary Foundation, and many other programs. Rotary is an international club that has like-minded professionals providing services to others in need. It is important for our club and many others to continue to change the world for better. As President, I am excited to work alongside these Rotarians to achieve our goals for 2022 and 2023. We will continue to live by our Four Way Test:
Of the things we think, say, or do
Is it the TRUTH?
Is it FAIR to all concerned?
Will it build GOODWILL and BETTER FRIENDSHIPS?
Will it be BENEFICIAL to all concerned?
We meet every Wednesday from 12:00PM to 1:00PM at Columbus Club Hall on Landa St.
Charitable Contributions 2022-2023
Communities in School of South Central Texas – $3,000.00
Spell Africa International – $1,000.00
UDOSA World-Wide 2002 – $1,250.00
New Braunfels 24 Hour Club – $6,400.00
International Vision Project Rotary Club of Zacoalco – $6,000.00
Children's Advocacy Center of Comal County – $1,000.00
STEPS – $2,000.00
RecoveryWerks – $4,000.00
Food For Kids Student Chapter – $2,500.00
International Partnership Ukraine Grant – $1,000.00
Brauntex Performing Arts Theatre – $6,500.00
If your non-profit organization is interested in applying for a Charitable Contribution Grant,
click here
.
Skip Wrape
I am George H. Wrape, but I go by Skip because I was a junior and I worked for my father and he worked for me. I was born in St. Louis, MO and raised there and in Cape Girardeau, MO. I graduated from Regis College in Denver, CO. I worked in meat packing and specialty chemicals before starting my first company in 1986 in Tyler, Texas. The company, Animal Technologies, Inc. is still going.
I joined my first Rotary Club in Tyler in 1993. Rotary has been an important part of my life. I have been very fortunate, and I consider Rotary my way to give back. I am a three-time Paul Harris recipient (been trying to be four for years), and a benefactor. I was President of the Rotary Club of Summit County, Colorado in 2003-2004. In Summit County I became close to our exchange student from Brazil, Guilherme Esteves. He is now a business associate in all my business in the United States, Mexico, Costa Rica, and Brazil. I joined the Cape Girardeau West Rotary Club in 2005. I was International Director in the club and left Assistant District Governor for four clubs in district 6060.
I have experienced YaYa moments in my foreign travel and international projects. In 2000 The Rotary Club of Summit County, CO., joined with The Rotary Club of Limon, Costa Rica and built a school in Sixaola, Costa Rica for the Bribri Indians. Two years later we joined with the same Rotary Club in the poorest province of Costa Rica to give away 250 wheelchairs. It was quite a moving experience. In 2009 I was looking for a new international project for my new club, Cape West. I was encouraged to go to Haiti, where I basically was set up to start a school in Thomassique, Haiti where the kids were going to a school under trees. The Rotary Club helped and did what they could, but we ended up starting a not-for-profit organization, OPTE, Out of Poverty thru Education, which is still valid.
The school in Haiti has over 350 students and kids have progressed passed 7th grade. The school only accepts orphans and kids of parents that cannot afford regular schools. It has been given awards in excellence and cleanliness. It is currently being supported by a group out of Springfield, MO headed by Larry O'Reilly of O'Reilly Auto Parts.
I have had a second home in New Braunfels since 2015. It was time to come here full time in June. My wife of 25 years, Colette, originally from Costa Rica, four daughters and four grandchildren, one daughter in Wimberly, one in Gonzales, one recently graduated from Mizzou, living with us here, and the youngest is a freshman at Texas A&M University.
My hobbies are swimming, sailing, and skiing, but can't do the later much anymore.
Rotary Club of New Braunfels
Service Above Self
We meet In Person
Wednesdays at 12:00 PM
Columbus Hall
111 West Landa Street
New Braunfels, TX 78130
United States of America

OBJECT OF ROTARY
The Object of Rotary is to encourage and foster the ideal of service as a basis of worthy enterprise and, in particular, to encourage and foster:
The development of acquaintance as an opportunity for service;




High ethical standards in business and professions; the recognition of the worthiness of all useful occupations; and the dignifying of each Rotarian's occupation as an opportunity to serve society;




The application of the ideal of service in each Rotarian's personal, business, and community life;




The advancement of international understanding, goodwill, and peace through a world fellowship of business and professional persons united in the ideal of service.
Rotary Club of New Braunfels
P.O. Box 310587
New Braunfels, TX 78131 USA
Club Membership
Rotary is the oldest and most prestigious service club in the world. Its ranks include executives, managers, professionals - people who make decisions and influence policy.
Application is a fillable PDF form that can be filled out and signed electronically.
---
Charitable Contributions
Charitable contributions are
available year round to local non-profit organizations that meet our qualifications for giving.
This application is a Jotform that can be saved and returned to at any time.
It is not required to have a Jotform account to use this form, but it is recommended.
DO NOT USE AN iOS DEVICE
such as iPhone or iPad
to fill out this form .
A community cure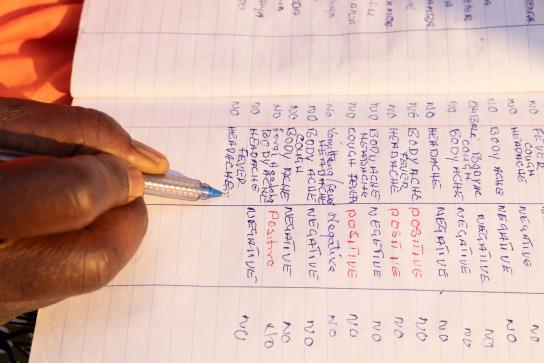 Backed by Rotary's Programs of Scale award, Partners for a Malaria-Free Zambia confronts a worldwide malady at the local level
Turning wine bottles back into sand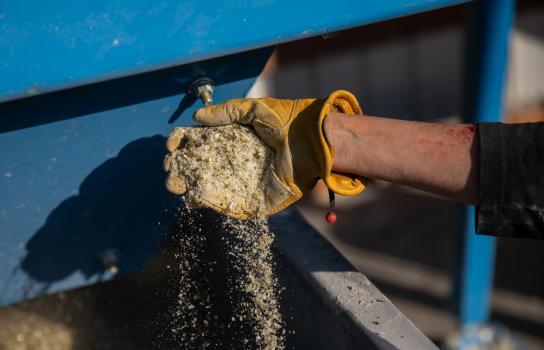 A club in Washington's wine country uses a novel approach to keep glass out of the landfill.
Leveraging expertise with Ashoka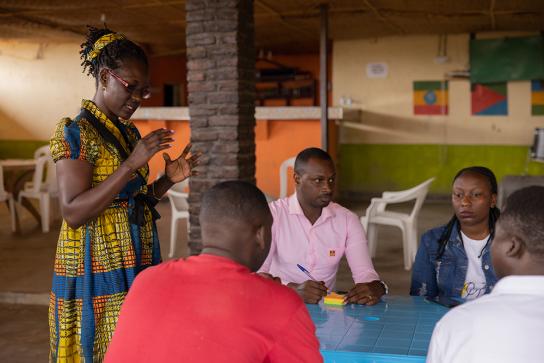 Leveraging expertise with AshokaRotary's partnership with Ashoka brings together the vision of Ashoka's social entrepreneurs with the local expertise of Rotary members to inspire innovation that can solve problems, create leaders, and